Erik J. Martin has written on real estate, business, tech and other topics for Reader's Digest, AARP The Magazine, The Chicago Tribune and his blog, Martinspiration.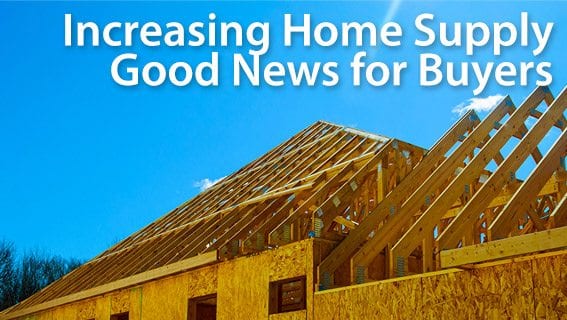 If you want to buy a new home today, you have to be patient. Home prices and interest rates continue to head north. And a supply shortage can make it hard to find homes for sale within your budget.
Part of the problem has been that builders aren't starting enough new affordable homes to meet demand. But new data suggests that help is on the way.
Experts say this news should make home shoppers, who seek positive signs in the real estate market, feel more confident.
Learn what you can afford. Then, explore your options. You don't have to feel limited to only buying a resale home.
Verify your new rate (Mar 1st, 2018)
Fresh numbers point in positive directions
Looking for signs of hope from the housing industry? Ponder these latest findings:
New construction is off to a strong start this year, per the Commerce Department. In January, the number of new construction housing units increased to an annual rate of 1.326 million. That's a rise of 9.7 percent from a month earlier. It's also the third increase in four months.
The number of building permits builders obtained jumped to an annual rate of 1.396 million. That's an increase of 7.4 percent compared to December 2016.
Total new home starts grew 7.3 percent in the 12 months through January. Single-family starts climbed 7.6 percent over that period.
Rising mortgage rates affect home affordability, but less than you think
Builders feel more confident and optimistic, too. Consider the National Association of Home Builders' (NAHB) Housing Market Index (HMI). The HMI score is based on results of a monthly survey of NAHB home builder members. This poll asks builders to assess current market conditions for newly built homes. It also asks for their expectations for these conditions over the next half-year. An HMI score over 50 suggests more builders believe conditions are "good" versus "poor."

The total HMI score for February is a favorable 72.
But the score for its most forward-forecasting component—asking about conditions six months in the future—is even better, at 80. That marks a post-recession high. It indicates that builders are more confident about the second half of 2018.
Why this is good news
Robert Dietz, the NAHB's chief economist, likes these numbers.
"The builder confidence measure would indicate that single-family home construction is going to increase. It indicates that builders are going to add inventory to…