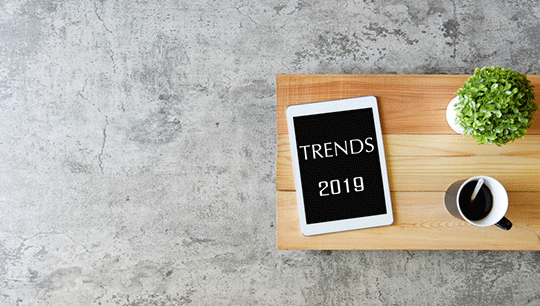 In case you weren't paying attention, 2018 was an exciting year in real estate—full of twists and turns. Obviously, I don't have a crystal ball—but after spending decades as a successful real estate investor, I am pretty well versed in reading the tea leaves. So, what does 2019 have in store for real estate investors?
According to Zillow, "rising mortgage rates will set the scene for the housing market in 2019. They will affect everyone, driving up costs for home buyers and creating more demand for rentals. Even current homeowners could start to feel locked into their mortgage rates."
Here are some interesting trends that will affect the real estate market in 2019:
1. Technology Advancements
Technology in the real estate industry has been changing rapidly. Companies like Redfin, Zillow, Trulia and Homesnap have been changing the way sellers and buyers perceive the market and it is crucial for investors looking to buy properties to understand the difference between price and value.
2. New Buying Patterns
The baby boomers who once purchased all the traditional two-story homes are now ready to downsize. But they don't just want less space, they are also looking for ranch-style homes, so they don't have to navigate stairs as they age. What does that mean? Single-story homes will increase in value as demand rises.
Millennials are finally ready to purchase their first homes despite headlines saying they "can't afford them." But because they are largely seeking affordability and quality of life, they are having to trade in the urban life they crave and head out to the suburbs. In 2017, the undeniable shortage of affordable entry-level properties created a real barrier for this group, the nation's largest buyer segment.
During the Great Recession, more than 10 million Americans were forced into foreclosure—and their ten years of waiting to purchase another property (due to foreclosure law) is over. According to the National Center for Policy Analysis, approximately 1.5 million Americans will become eligible to re-enter the housing market this year. While some might still be licking their wounds, many are sick of renting and itching to own again.
3. Continued Dive in Retail Assets
We all know online sales are killing some malls, but we've seen few attempts at repurposing these empty properties. Many of these struggling retail locations have excellent economics for multifamily redevelopment. I'm shocked we haven't seen more mall-to-multifamily conversions.
4. Steady Stream of New Construction
The top trend I've seen so far has been a steady stream of new construction, which is kept rent prices mostly in check for…