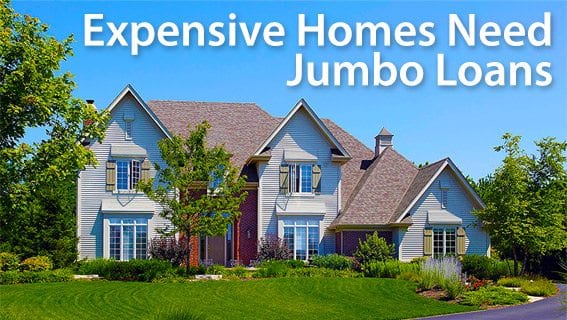 Property values are rising in most markets, and that means jumbo loans have become more important. As of December, home prices nationwide had increased for 70 straight months, according to the National Association of Realtors (NAR). Home prices are at new highs in nearly two-thirds of our major metro areas.
2018 conforming loan limits jump by nearly $30,000
Property prices in many areas exceed so-called "conforming" loan limits — the maximum mortgage amount allowed by Fannie Mae and Freddie Mac. The single-family limit is now $453,100 in most of the U.S. and as much as $679,650 in "high-cost" markets. Limits in Alaska, Hawaii, Guam and the U.S Virgin Islands are higher still.
How do you finance a home if the value is well above the conforming loan limits? How can you get a million-dollar loan? The best solution in many cases is to use jumbo loans, larger mortgages that make financing and refinancing easy for qualified borrowers.
Verify your new rate (Feb 26th, 2018)
Jumbo loans
After the mortgage crisis, the government created a series of laws designed to make the real estate market less risky. One result is that mortgages are now divided into two groups, Qualified Mortgages (QMs) and Non-Qualified Mortgages (non-QMs).
Most mortgages today are QMs, and this is important for jumbo borrowers. Lenders love to originate QM loans, including jumbo mortgages. Why? Because a QM mortgage makes the lender virtually immune from lawsuits.
How your loan size affects your mortgage rate (and what to do about it)
In exchange for lawsuit protection, lenders have to follow certain rules with QMs. For example, balloon payments are not allowed. Prepayment penalties are limited to 2 percent the first year, 2 percent the second year, and 1 percent in the third year….