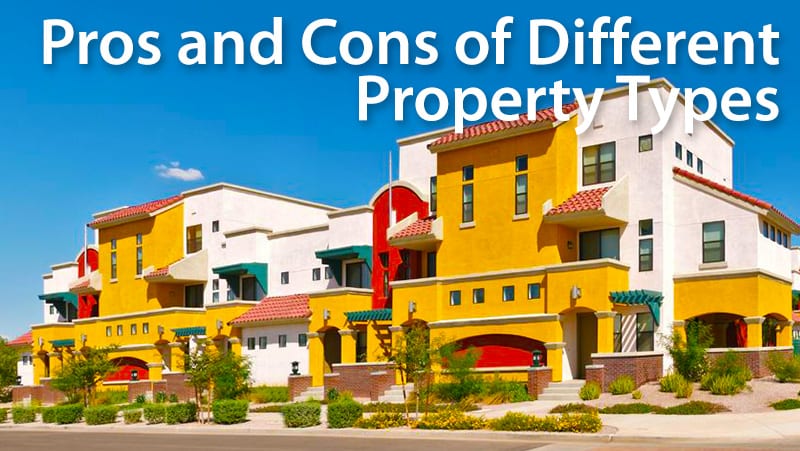 If you're concerned about investing in property or getting a mortgage, some types of homes are better than others. In general, though, they break down into three categories:
Single-family homes (including manufactured houses, modular homes and PUDs)
Condominiums, co-ops or townhomes
Multi-unit housing (duplexes, triplexes and fourplexes)
Different types of homes are easier to buy and appreciate at different rates. Here's what you need to know.
Verify your new rate (May 19th, 2018)
Homes and more homes
How many different types of homes are there in the United States? Well, in one sense, every home is unique — even if some are similar. But it makes sense to break them down into seven categories:
Single family residence
Condo/co-op
Townhome
Zero lot line
Planned unit development (PUD) home
Manufactured
Modular/pre-fab
Multi-unit
Each category has characteristics that make them more or less attractive to a purchaser, depending on that person's needs. So read on to discover pros and cons for each. Doing so will help you make sure you're not missing out on your ideal place.
You'll also find that mortgage lenders have different policies and requirements for different types of homes.
Single family residence
This is the sort of home a little kid is likely to paint if you ask her for a picture of a house. That's no surprise. In 2000, more than 60 percent of all homes in the U.S. were detached residences, each intended for a single family. In other words, of all the different types of homes, this is by far the most popular.
Pros
One of these is the American dream — with or without a picket fence
Plot sizes vary but are generally larger — That can mean more space, increased ability to expand, and more privacy
The square footage is often greater
Your ownership is usually "freehold/fee simple," meaning it's all yours to do with what you will forever (subject to your mortgage and the law)
Maybe the biggest benefit of a single family residence is the freedom it often gives you to adapt your home to your changing needs.
Cons
Your single family residence is yours. There's nobody to turn to for help with repairs and maintenance (though you can often borrow from your mortgage lender)
These are frequently found in suburban or rural environments and not everyone wants those lifestyles
Some come with compulsory membership of a homeowners' association (HOA). Although HOAs are generally good for community cohesion and coherence, some find their rules and insistence on conformity intrusive
Occasionally, HOAs get into financial trouble and you may bear part of the cost of getting yours back into the black. You pay an annual fee, even during good times
Related: Best home improvement loan: how to find it and pay less for it
Condos and co-ops
A condo (less of a mouthful than the full name, "condominium") is a residential unit that you do own within a larger property that you don't. In other words, you are typically the legal owner of your unit, but someone else owns the common areas in your building, the structure itself and any surrounding land.
You need to read your purchase documents closely to be sure you know what you own and have responsibility for and what belongs to the company.
With a co-op, you don't own your unit at all. In fact, you and the other residents between you typically own the company that owns the larger property. What you actually own and control are shares in the company, and a board runs the whole show.
Related: Condo or house (which should I buy)?
The condo and co-op have more to do with ownership rights than the unit. Although these units are most commonly apartment-style properties, they can be different types of dwellings, including detached residences.
Pros
Someone else is going to clean, repair and maintain the common areas, including the grounds
Many condos and co-ops provide extra amenities, including pools, gyms and 24-hour security/door staff
They typically have lower prices than an equivalent single-family residence, though there are exceptions
They're often located where land is at a premium, so you may find yourself with a sea view or in a prime downtown location where a single-family residence would be prohibitively expensive
Many condo developments and co-ops have a real sense of community and may help you make friends quickly
However, some of those pros have flip-side cons.
Cons
You're going to pay your share of all those cleaning, repair and maintenance costs — and for those amenities
You need to ensure your building's management is adequately funded or you could be hit by massive and unexpected bills
You're going to be living cheek by jowl with a lot of other people, not all of whom you'll necessarily like
Noisy, messy and inconsiderate neighbors can be an especially troubling issue in some buildings
Condos and co-ops can be harder to finance, which can make them harder to sell
Condos and co-ops are often a lifestyle choice for those who don't want to spend time on home maintenance and yard work. That means they often appeal to retirees, the ultra-busy, those who travel a lot and the young….