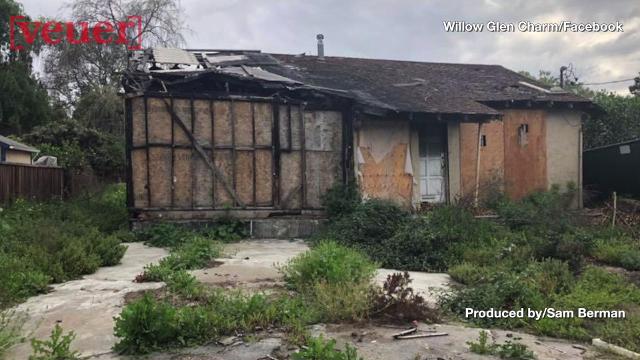 A house in San Jose California that suffered major fire damage is on the market for $800,000. Buzz60
LOS ANGELES — Higher mortgage rates are making the already challenging task of buying an affordable home even tougher for many Americans this spring.
In metro areas such as Denver, buyers are rushing to close a deal before mortgage rates get too high. In Dallas, some are embracing longer commutes to find homes they can afford. And in places such as Los Angeles, where the number of homes for sale is down sharply from a year ago, sellers routinely receive multiple offers.
While still low by historical standards, long-term mortgage rates have been mostly climbing this year. The average weekly rate on a 30-year fixed-rate mortgage edged up to 4.42% last week. It was 3.95% at the start of this year.
A mere extra half percentage point or so can boost monthly payments and add tens of thousands of dollars extra in interest over the life of the typical 30-year loan. At a time when home prices are rising faster than incomes in many parts of the country, that could be enough to shut out some would-be buyers who make the median income in cities such as Seattle and Los Angeles.
First-time buyers already face significant hurdles to homeownership because starter homes have seen the steepest price increases as well as sharpest decline in the number of homes on the market. Higher mortgage rates only further limit what buyers can afford.
More: Home-buying tips: How to land the right house in a tough market for buyers
More: Home buyers beware: Most expensive housing markets in some states average $750,000-plus
More: Drew Scott of 'Property Brothers': How I became a house flipper and entrepreneur
More: Despite challenges, there are ways Millennials can prep themselves for homeownership
The combination of low inventory, rising prices and higher mortgage rates is expected to weigh on the U.S. housing market this year, with several economists and housing experts forecasting U.S. home sales will be flat or only slightly higher than in 2017.
"We've been talking about low inventory for several years, and yet inventory continues to turn lower," said Danielle Hale, chief economist for Realtor.com. "That puts us in a position where for home shoppers this spring it's going to be the most competitive market we've seen in the last few years."
Chad Zolman got a taste of that while looking for a home in Denver. The account manager made 11 offers since his search began in September, but lost out to rivals offering more money. As mortgage rates started rising, so did Zolman's anxiety about being able to afford to buy.
"The rates kept going up, and the more the rates kept going up, the less house you can buy," said Zolman, 41. "And the less house you can buy in this market, that's not good. You have to be able to pony up the cash."
Zolman eventually bought a newly built, three-bedroom townhome for $370,000. He got approved for a 30-year fixed-rate loan just under 4.7%. He's not in the clear yet, however. He can't lock in his rate until mid-May, within the 120-day window before construction on the house is completed.
And if rates go higher by then?
"It is what it is," Zolman said. "You just have to pay it."
For others, rising mortgage rates — the 30-year rate hit a four-year high of 4.46% in March — make it tougher to bridge the…