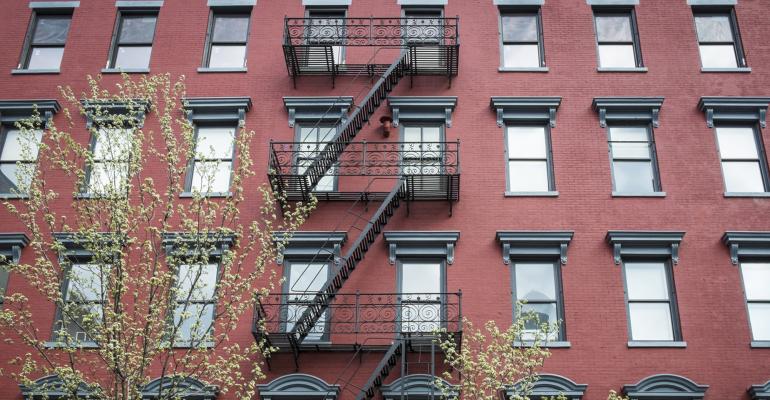 Cap rates on multifamily transactions have not moved much since 2017, according to Real Capital Analytics.
Experts keep waiting for the yield to rise on multifamily investments.
At conferences, leading investors and industry analysts repeat the same question: "Are interest rates going to go up any more and will capitalization rates respond?" says Jim Costello, senior vice president with research firm Real Capital Analytics (RCA), who is currently making the rounds of the fall apartment conferences, most recently at the Association of Foreign Investors in Real Estate (AFIRE), held in September in Ellicott City, Md.
Benchmark interest rates have already risen more than half a percentage point in the last year—and they seem to be rising further this fall. But cap rates for apartment properties seem frozen in place. New buyers continue to step forward, paying high prices that keep average cap rates fixed at record lows.
"There are always new buyers," says Brian McAuliffe, president of institutional properties with CBRE Capital Markets.
Cap rates still low
Since the fall 2016, investors have accepted
cap rates that average in the mid-5 percent range for apartment properties in the United States. Cap rates on apartment acquisitions have averaged 5.6 percent since 2017, with almost no movement, according to RCA data.
At the same time, the yield on benchmark rates like the yield on U.S. Treasury bonds have changed quite a bit—rising from their low point of less than 1.5 percent in the spring 2016 to a little under 2.5 for most of 2017. Treasury bond yields rose again, from under 2.5 percent to roughly 3.0 percent, when Congress passed its new tax law and through the spring of 2018. More recently, in September 2018, the yield on Treasuries began to move again towards 3.1 percent.
Rising Treasury yields are likely to push cap rates higher eventually, but not immediately.
…