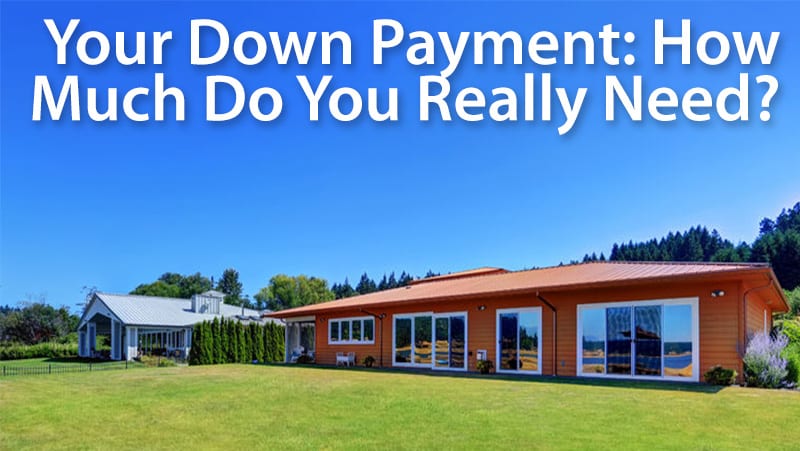 A down payment is what you pay for a home purchase. How much down payment do you need for a house? Anything from zero to 100 percent. The difference between your down payment and the purchase price is your mortgage.
You must be able to prove that your down payment comes from an acceptable source
Unacceptable sources are anyone who benefits from the transaction
Down payments can sometimes be gifted or borrowed
Lenders prefer larger down payments. Applicants who make smaller down payments may have to buy mortgage insurance to get approved for a home loan.
Click to see your low-downpayment loan eligibility (May 11th, 2018)
Down payment plus borrowed funds equal purchase price
"A down payment is money you pay that isn't financed through a mortgage," says attorney William Walzer. "It is typically paid at closing to the home seller."
Together with the home loan, the down payment equals the total sales price for the home being bought. Say your home's sales price is $300,000. If your required down payment is $60,000, you'll need to borrow $240,000 ($300,000-$60,000).
"The buyer will provide the down payment amount to the settlement agent or closing attorney a few days before the closing date," says Carlos Miramontez with Orange County's Credit Union.
Down payment facts
A recent National Association of Realtors survey found some surprising results:
Most buyers don't put 20 percent down on their home
The average down payment is 10 percent
The average down payment by first-time buyers is 5 percent
Personal savings is the main down payment source for 59 percent of buyers
43 percent of buyers saved for their down payment for six months or less
There are mortgage programs for all types of down payments.
How much down payment do you need for a house?
The down payment amount you must pay depends on the loan you get. Fannie Mae and Freddie Mac offer loans with down payment requirements as low as 3 percent. In general, the less you put down, the pickier conventional (non-government) lenders become about the rest of your credit and income.
Benjamin Feldman with Unison Home Ownership Investors explains, "That's because the loan carries greater risk of default as the down payment gets smaller. Because of this risk, buyers must usually pay private mortgage insurance (PMI) if the down payment is below 20 percent."
There's good news: three types of loans require little-to-no down payment:
Federal Housing Administration (FHA) loan (minimum 3.5 percent)
Veterans Administration (VA) loan (minimum…