The United States is on the verge of a possible trade war.
The Trump administration imposed tariffs on at least $60 billion in Chinese imports Thursday. Those will come on top of the controversial steel and aluminum tariffs that go into effect Friday.
The moves have producers in almost every state bracing for blowback. Big manufacturers could pay more for the steel they use to make plane engines, auto parts and building materials. And American farmers could be in the crosshairs of China, a big importer of US crops.
While China has not said which US exports it might target, agricultural products have historically been a favorite for retaliation.
Most recently, China launched an investigation into US sorghum exports in response to an earlier round of tariffs imposed on Chinese washing machines and solar panels. The United States sold nearly $1 billion worth of sorghum to China in 2017. Should China impose duties on those exports, states like Kansas, which account for nearly half of the nation's sorghum production, could take a sizable financial hit.
In response to Trump's plan to impose tariffs on steel and aluminum, the European Union published a list of hundreds of US-made products, ranging from peanut butter to pleasure boats, that it would slap with duties.
That would have hurt any number of states that rely heavily on overseas sales of those products. However, on Thursday, US Trade Representative Robert Lighthizer told a Senate committee that the EU, Argentina, Brazil, South Korea and Australia will not be subject to the trade penalties once they take effect Friday.
Based on trade data collected by the U.S. Census, here are the export products each state depends on the most, and which tariffs would have the biggest effect.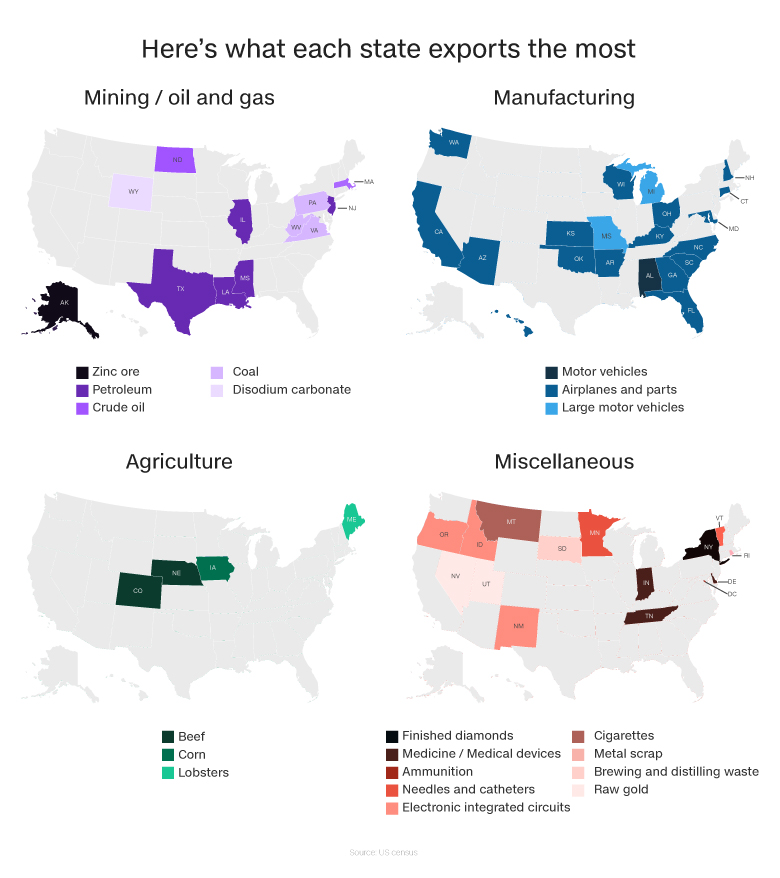 In 2017, airplanes and airplane parts were the top exports for 17 states, by dollar value. That includes traditional aircraft-producing states like Washington, which exported $41.8 billion worth of planes and parts last year, as well as lesser-known aviation hubs like Kansas and Maryland.
Analysts say that Boeing, which sells billions of dollars worth of airplanes to China, could be a top target for retaliation.
These states would also suffer from the steel tariffs themselves, since steel is a main ingredient for airplane manufacturing. A report by a trade consulting firm released this month found that industries that consume a lot of steel and aluminum, including manufacturing…