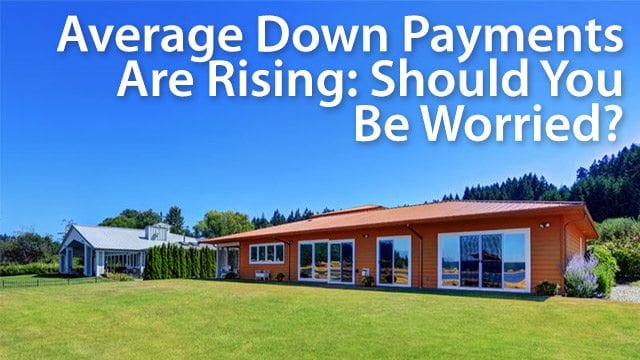 Saving up for a down payment on a home can be tricky. In fact, it's often the hardest step in the process of buying a home. That's because you must tighten the financial belt and make sacrifices.
Some pros suggest putting down at least 20 percent. Those who put down less may face less favorable loan terms. Plus, they'll have to pay private mortgage insurance (PMI). PMI safeguards the lender if you're not able to pay your loan.
Before you put 20 percent down on a home, read this
20 percent not necessary
But having one-fifth saved up isn't mandatory. Many people are still able to buy with a down payment less than 20 percent. New data show that most buyers actually put down only about one-third that amount.
Learn the facts and check out loan programs that require a smaller down payment. It may put you on a faster track to owning than you think.
Click to see your low-downpayment loan eligibility (Jan 7th, 2018)
New numbers on down payments
A new report by ATTOM Data Solutions had some interesting findings. In the third quarter of 2017:
The median down payment for detached homes and condos bought with financing was $20,000. That's up from $18,161 in the earlier quarter. A year earlier, that amount was $14,400.
$20,000 is a 7.6 percent down payment. That's based on the median sales price of $263,000 for financed home purchases. That mark is up from 7.1 percent tallied a quarter earlier, and 6.1 percent a year prior.
The median down payment surpassed $50,000 in 12 of the 99 metro areas studied in the report. These pricey areas included San Jose, San Francisco, and Los Angeles, California, and Boulder, Colo.
What these findings mean to you
First-time home buyer's guide: making a down payment
Daren Blomquist, senior vice president for ATTOM Data Solutions, says the report underpins what we already know: home prices keep going higher. As a result, today's buyers need to fork over a bigger down payment.
"There's been a lot of talk about opening up ownership to first-time buyers. But this data shows the market is still tilted in favor of buyers with larger down payments," he says. "This is evident in the record high dollar amounts seen in median down payments."
A limited housing supply in many markets has led to two truths.
Complete guide to down payment assistance in the USA
"First, the most qualified buyers with the largest down…