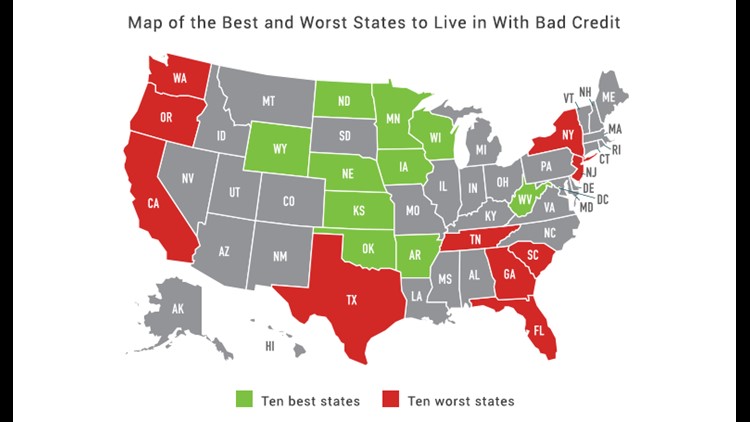 What's worse than a bad credit score? Having bad credit and living in a state where bad credit makes life even more difficult.
RewardExpert, a rewards optimization site, compared factors such as cost of living, usury laws, and the overall financial health of a state to determine how bad credit affects life in each state. Their findings suggest that you avoid the following states if your credit is substandard.
1. Washington – High prices in all categories and poor protections against predatory lending practices make Washington the most difficult state for consumers with bad credit.
2. Tennessee – The Volunteer State combines a high maximum allowable usury rate and poor rankings in all other categories to earn the status of second-worst state for residents with poor credit.
3. South Carolina – Prices are generally high in South Carolina, with housing and educational costs among the highest in the nation (41st and 43rd, respectively). There are few debt collection agencies, but that's offset by poor protection against predatory lenders. It only takes one debt collector to make your life miserable.
4. Georgia – Georgia has 267 debt collection agencies and 866 complaints per capita reported to the Consumer Financial Protection Bureau (CFPB) – third only to Delaware (895) and Washington, DC (1210). With high maximum usury rates and one of the lowest average credit scores in the nation, Georgia's debt collectors are likely to stay busy.
5. Florida – Things aren't much better across the Florida/Georgia…